Online Courses
"Your Educational Journey Starts Here"
Cardiovascular Nursing Practice Book 1:
Cardiac Arrhythmias and 12 Lead ECG Interpretation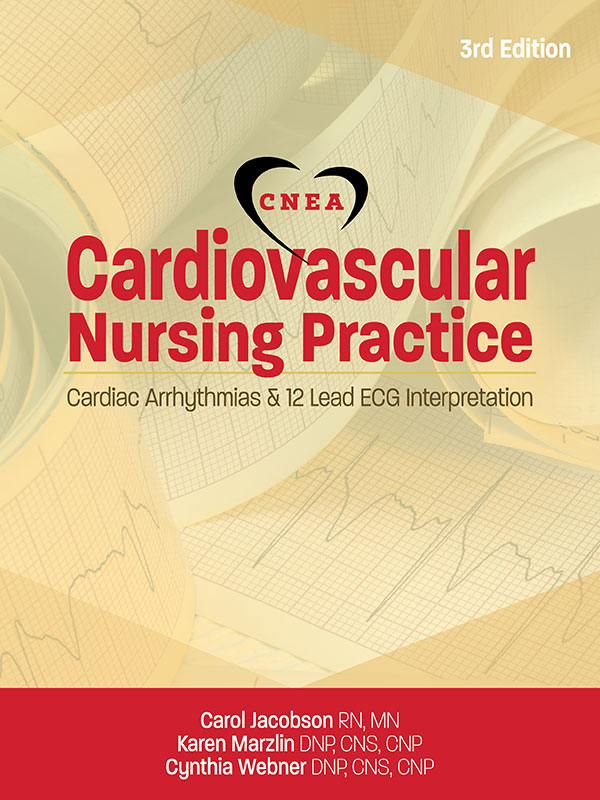 The 3rd Edition of Cardiovascular Nursing Practice is published in 6 separate books that can be purchased individually or as a complete set.
Introducing Book #1: Cardiac Arrhythmias & 12 Lead Electrocardiography
Cardiac Arrhythmias and 12 Lead Electrocardiography will guide you to mastery in cardiac rhythm and 12 lead ECG interpretation. The 3rd edition contains brand new content including:
New section on sinus node dysfunction
New tables summarizing updated guidelines for treatment of atrial, junctional, and ventricular arrhythmias
Expanded information on differential diagnosis of wide QRS tachycardias
New section on mechanisms of arrhythmias
New sections on leadless pacemakers and pacemaker syndrome
New section on His bundle pacing
New section on wearable cardioverter defibrillators
This book will allow you to grow from Novice to Expert. If you are a new graduate or a seasoned APRN, this book has what you need to achieve your clinical goals.
You can purchase this new release in a print version or in an electronic version (Kindle or EPUB) for use with your favorite e-reader.
This book can be purchased with the option of earning 25.0 CE. The CE process is paperless with online access to the post test, evaluation, and CE certificate at the time of purchase.
Content includes:
Cardiac Arrhythmias
Detailed description and example rhythm strips for all basic cardiac arrhythmias: sinus, atrial, supraventricular tachycardias, junctional, ventricular, AV blocks, asystole, and bundle branch blocks.
Differential diagnosis of wide QRS beats and tachycardias
Accessory pathways
Bedside cardiac monitoring
Mechanisms of arrhythmias
12 Lead Electrocardiography
Anatomy of a 12 lead ECG, how each lead records electrical activity, and the 12 views of the heart
Normal and abnormal ECG waveforms and intervals
Calculating the QRS axis
Fascicular blocks (hemiblocks)
Chamber enlargement
Ischemia, injury and infarction; locating the infarct on the ECG
Preexcitation syndromes
Brugada syndrome
Long QT syndromes
Drug and electrolyte effects on the ECG
Electrical Management of Arrhythmias
Defibrillation and cardioversion
Single chamber pacemakers
Dual chamber pacemakers
Cardiac resynchronization therapy
Implantable cardioverter defibrillators
Wearable defibrillators
Electrophysiology studies and ablation for arrhythmias
Excellence Starts Here
Keep up-to-date with live classes, products, promotions, practice pearls and online courses.
Sign up today and receive a FREE GIFT, an exclusive offer available only to new subscribers:
Top 10 Lessons Learned in over 100 years of Combined Nursing Experience
Cardiovascular Nursing Education Associates
Exceptional Nurses, Exceptional Patient Care
3324 SW 172nd St. Burien, WA 98166